The Berkshires offer an array of fine restaurants, taverns, sandwich shops and pizzerias, with one certain to appeal to your palate, as well as your pocket book. From casual dining to gourmet excellence as well as great pizza, sandwiches and your favorite ice-cold beverage. The Berkshires are known the world over for pleasing even the most demanding of clientele.
Within the Berkshire Dining website, we have listed Berkshire County's great restaurants and eateries and hope that your dining experience is one to remember. Have a dining question or need help making a reservation? Call us Toll Free at 1-800-772-7926 for assistance.
Let's face it, we all have a favorite style pizza, ...or should we say "pie." Whether it's Deep Dish, Neapolitan, Stuffed Crust, Wood Fired, Coal Fired, Thin Crust, New York, Greek, Sicilian, or just about any other style of pizza imaginable, chances are you will find it right here in The Berkshires. And with dozens of restaurants and pizzerias to choose from, the Berkshires are truly a "pizza lovers" paradise.
Our "pizza journey" took us from Williamstown in the northwest to Sheffield in the southern Berkshires, bordering Connecticut. In all, we have uncovered 59 chefs serving us "their" version of the Berkshire's best pizza ...and although we haven't tried each and every restaurant as of yet, we will be visiting the remaining few in the near future. Do you know of one we have overlooked? If so, please let us know and we will be happy to make a visit.
The first stop on our trip was none other than the Colonial Pizza located on Route 2, in Williamstown, which has been serving Greek style pizza in the Berkshires since the 1970's. In fact, living in North Adams during the 70's, I can remember ordering pizza from their location on the corner of Eagle and Center Streets, which is now the home of Village Pizza. It was great then and is still great today. They make their dough fresh everyday, grate their own cheese, serve up both white and red pies and offer "half-baked" pizzas for those wishing to finish off their pies at home.
Just a short drive west, on the left, you will find Water Street, which is home to another one of Williamstown's great pizzas, Hot Tomatoes Neapolitan Pizza. In business since 1994, owner's John and Angie England turn out some of the best thin crust, New York ... MORE>>>
Creating our Wing Section was a great deal of fun, interesting and at times a bit overwhelming for the palate. In doing so, we also learned that Berkshire County has many outstanding wing restaurants and some pretty bizarre wing flavors to choose from, but most importantly, we learned that people take their wings and bragging rights very seriously.
Whether your love is Plain, Hot, Mild, Atomic, BBQ, XXX, Teriyaki, Bourbon Glazed, Honey Mustard, Roasted Garlic, Szechwan, Jack Daniels, Jamaican, Sweet & Sour, Sweet Chili, or one of the many "Signature House" recipes, you will without a doubt, satisfy any wing craving you may have.
Unlike our pizza journey, where we started in the the Northern Berkshires and worked our way south, this time we decided to start in the middle and "wing it" by heading in any direction our taste buds took us, with plenty of great places still ahead of us on our quest. Do you know of one we have overlooked in our list below? If so, please let us know and we will gladly pay them a visit.
We couldn't help but notice the number of "Wing Fling" winners located in Lenox. So Lenox it was, with our first stop at a place we visited during our pizza journey ...Betty's Pizza Shack. I said it then, and I'll say it again, the decor is worth the trip by itself! As for the wings, we tried both the Sweet and Spicy and Blazzin Saddles. The balance between ... MORE>>>
As summer quickly approaches, area merchants are preparing for another busy season in the beautiful Berkshires. Hotels are receiving advance reservations and tickets for local Performing Arts and Attractions, such as Tanglewood, Shakespeare & Company, Williamstown Theatre Festival and Jacobs Pillow Dance Festival, are now on sale. Please take a moment and visit the website of an area attraction, by clicking their Logo below.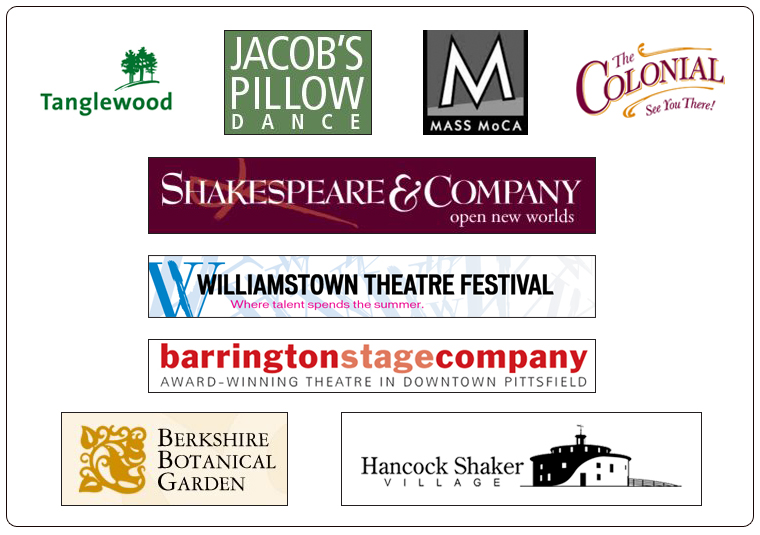 Tanglewood:
The 2013 Tanglewood Season Tickets are on sale now! The 2013 Tanglewood season offers music lovers a spectacular variety of musical guests and programs that spotlight Tanglewood's rich tradition of presenting summertime concerts at their best since 1937. Widely known as one of the world's most beloved music festivals and the famed summer home of the Boston Symphony Orchestra, Tanglewood is situated in the beautiful Berkshire Hills of western Massachusetts.

The 2013 Tanglewood season also honors the festival's tradition of presenting the BSO and many of the top artists of the classical music world in weekend concerts throughout July and August. Website
Barrington Stage Company:
Barrington Stage Company kicks of the 2013 season with "Bashir Lazhar" running May 22, 2013 - June 8, 2013. An acclaimed Canadian play, Bashir Lazhar tells the story of a French-Algerian political refugee who is hurriedly hired as the teacher at an elementary school in Montreal for a class of distressed students. His unorthodox teaching methods draw him into surprisingly explosive territory. The 2012 Best Foreign Film Oscar Nominee Monsieur Lazhar is based on this timely and beautifully written play. Website
Shakespeare & Company:
Shakespeare & Company Artistic Director Tony Simotes proudly announces the benefit performance of Broadway in the Berkshires that will take place on Monday, July 8th at The Tina Packer Playhouse, 70 Kemble Street, Lenox, MA. Producer and Company member, Deborah Grausman (Actor and founder of Berkshire Musical Theater Workshop) has assembled an all-star cast and first-rate creative team for this spectacular (not to be missed) one-night-only event. Director Sam Scalamoni (Disney's Beauty and the Beast, Lestat), Stage Manager Kat West (Altar Boyz, New York City Opera, Prospect Theatre Company) and Assistant Director/Associate Producer Amy Hume will be heading up the creative team. All of the artists are generously donating their time and talent. Website
Jacob's Pillow Dance Festival:
Tickets for Festival 2013 went on sale Monday, April 8. Festival 2013 features new dance companies and beloved favorites from Brazil, Canada, Israel, India, France, Germany, and across the U.S. Vibrant, intriguing, and inspirational performances can fill an entire summer of dance or serve as the perfect getaway or family vacation. Visit the Jacobs Pillow Dance Festival website for the 2013 schedule, photos, video, and details about the performances. A full schedule of more than 200 free shows, talks, and events are planned. Website
Williamstown Theatre Festival:
The 2013 WTF Season will begin with ANIMAL CRACKERS, June 26th through July 14th. Hooray for Captain Spaulding! The intrepid African explorer, inveterate womanizer, and interminable jokester hobnobs with high society as the guest of honor at a swanky soiree. But when a priceless painting is pilfered, he and the guests are swept up in a screwball search for the thief. This new interpretation of the Marx Brothers' hit Broadway musical and classic film overflows with mirthful melodies, dynamite dancing, and seriously silly slapstick. Website
Hancock Shaker Village:
Hancock Shaker Village kicks off its 2013 season with the annual Baby Animals on the Shaker Farm, now through May 6th. This spring celebration is one of the most exciting times of the year at the Village. It's a 3-week barnyard birthday party for the new lambs, piglets, calves and chicks that will be filling the famous Round Stone Barn! Come celebrate and give a warm welcome to these new fuzzy friends. Stroll through our heirloom gardens, play in our hands-on Discovery Room, and explore our historic buildings. Kids 12 and under are admitted FREE! Website
Please Visit Our Sponsors
MASS MoCA:
FreshGrass Bluegrass Festival 2013 - FreshGrass is a wonderland of traditional and cutting-edge bluegrass, tucked appropriately into a 19th-century factory turned 21st-century museum in the Berkshire mountains of northwestern Massachusetts. An opportunity for enthusiasts to both appreciate and participate, FreshGrass is family-friendly and brimming with the brightest talent not just on our four stages, but also in our galleries, brick-lined courtyards, and grassy fields.

This year's lineup features guitar gods and banjo gurus, traditionalists and trailblazers — artists you already know and love, along with new FreshGrass discoveries. You'll also find music workshops offered in conjunction with the Berklee College of Music American Roots Program, contests, kids' activities, and great food. Website
Berkshire Botanical Garden:
On May 10th and 11th the Berkshire Botanical Garden will be conducting their 36th Annual Plant Sale. Our 2013 season, Down to Earth, is all about getting down to basics. What better way to start the season than with our 36th annual Plant Sale! We've hand picked and grown some of our favorite plant selections and new varieties this year – you won't want to miss it! If you would like to volunteer for this event or are interested in becoming a vendor, please contact Karen Advokaat at kadvokaat@berkshirebotanical.org. Held on the grounds of the Berkshire Botanical Garden, at the junction of Routes 183 and 102 in Stockbridge, MA. Website
The Colonial Theatre:
Saturday, June 1, 2013 8PM - A Concert to benefit Community Resources for People with Autism, Sponsored by Greylock Federal Credit Union and Cohen, Kinne, Valicenti, Cook LLP. Local favorite, Sherri James Buxton, returns to The Colonial Theatre for her third solo performance. From jazz and cabaret to Broadway and pop, Her versatility and flawless vocal technique will delight audiences. Grammy award winner, Charles Neville, of the famed Neville Brothers, has appeared at major festivals and clubs throughout the country. His repertoire on the saxophone includes jazz, rhythm & blues, and popular music. Paul Green, clarinetist extraordinaire, is equally at home playing Jazz, Classical and Klezmer music. Green is the co-director of "A Summer Celebration of Jewish Music" here in The Berkshires, and the Director of the "Jewish Jazz Project" and "Music and More". Show highlights include a tribute to Whitney Houston and songs that Cole Porter wrote during his Berkshire years. Website
The Mahaiwe Performing Arts Center:
On July 27th at 8PM, The Mahaiwe proudly presents 10-time GRAMMY Award winning group THE MANHATTAN TRANSFER! The group that just keeps on harmonizing is famous for mixing jazz and popular music styles. The Manhattan Transfer is Cheryl Bentyne, Tim Hauser, Alan Paul and Janis Siegel. The Manhattan Transfer will perform with their touring band in a concert that will feature many of their hit songs such as Birdland, Operator, Tuxedo Junction, Chanson d?Amour, The Boy from New York City and many more. Website
North Adams SteepleCats:
Season Home Opener - The SteepleCats organization, a collegiate summer baseball team that brings the best college baseball players from across the country to play summer baseball at Joe Wolfe Field in North Adams. The team is part of the New England Collegiate Baseball League, a premier summer league that is known for its superb competition. This years Home Opener will be June 6th at 6:35PM against the Vermont Mountaineers. Website
Pittsfield Suns:
The Pittsfield Suns, a member of the Futures Collegiate Baseball League, will begin their 2013 campaign when they host the Torrington Titans on June 6th, 2013 at 7PM. Gates will open an hour prior to first pitch, with fireworks after the game. The Suns will play 27 home games at Wahconah Park, and will serve as host for the second annual FCBL All Star game. As they demonstrated in last year's inaugural season, the Suns brand of affordable family entertainment with a distinctive flair remains the primary focus of each Suns event, and should delight fans of Pittsfield and the Berkshires once again. Website
Berkshire Museum:
Berkshire Museum presents Objectify: A Look into the Permanent Collection, a major new exhibition of some of the most significant and fascinating objects from the Museum's holdings of more than 50,000 artworks, specimens, and artifacts. Objectify is proudly sponsored by Crane & Co. and TD Bank. The exhibition is part of the year-long celebration of the Museum's 110th anniversary. Website
Norman Rockwell Museum:
Norman Rockwell Museum will celebrate Art Museum Day on Saturday, May 18, 2013, by offering free admission to all children through age 18 (a savings of $5 per child, ages 6 to 18). The event is being sponsored by the Association of Art Museum Directors (AAMD), as part of their annual celebration being held at member museums across the United States, Canada, and Mexico. AAMD's Art Museum Day coincides with International Museum Day, organized annually around the world by the International Council of Museums (ICOM). Participation by AAMD member museums emphasizes the lasting impact art museums have on their communities, highlights the value of the visual arts in society, and provides opportunities for audiences to participate in wide-ranging programs and share their encounters with works of art. Website
Please Visit Our Sponsors

J. Allen's Clubhouse Grille, 41 North Street - Pittsfield - (413) 499-9998 - The proprietors of Patrick's Pub, a well known Pittsfield eatery, have opened a second dining venue at 41 North Street, in what previous housed Brulee's Restaurant. Owner's Micah and David Powell opened the new restaurant, J. Allen's Clubhouse Grille, in honor of their grandfather, Jack Allen Powell. J. Allen's will be managed by Dave and his wife Shauna, while Micah, his wife Shana, and their father Bruce will continue to operate the ever popular Patrick's Pub.

Although both restaurants are in close proximity to one another, each will be different in many ways. The New restaurant is approximately 7,000 square feet, with plenty of parking in the rear on McKay Street.

Located near the Beacon Cinema, J. Allen's features TV's throughout, as well as a juke box, TV trivia and pool table. The menu at J. Allen's is different from that at Patrick's, with fare ranging from munchies to dessert ...plus pizza, burgers, soups, salads, sandwiches, kids menu and a small selection of entrees. They also offer an excellent variety of draft beers, including a selection from microbreweries, plus wine and cocktails.

The new J. Allen's Clubhouse Grille is open 7 days a week: Sunday through Thursday 4PM-12AM, Friday and Saturday 4PM-1AM. Website
Cafe Adam, 420 Stockbridge Road - Great Barrington - (413) 528-7786 - After 6 years at their previous address, Cafe Adam has moved a short distance north, to the the Jenifer House Commons at 420 Stockbridge Road, Great Barrington. As in the past, reservations are strongly recommended. Website
New Hotel Coming To The Berkshires - Pittsfield - A leader in the Berkshire County hospitality sector has announced plans to develop a Hilton Garden Inn on the Pittsfield-Lenox Road. Mr. Vijay Mahida, owner of the Comfort Inn and Monument Mountain Hotel facilities in Great Barrington, expects to break ground on the Pittsfield project in May, with a planned grand opening in late spring 2014. The 95-room hotel will be constructed on the current site of Dr. Lahey's Garden Center, at an estimated cost of $10 million.
Mr. Mahida said that the current conditions in Berkshire County are ideal for introducing a high profile hospitality brand with strong appeal to business and recreational travelers. "We are encouraged by the economic rebound we are seeing in the Berkshires and in the country as a whole," said Mahida. "Business travelers visiting the Berkshires will appreciate seeing a trusted national brand like Hilton Garden Inn. Our new hotel will also be convenient to many recreational and cultural venues, from the Colonial Theatre to Bousquet Ski Area to Tanglewood. We feel Pittsfield and Berkshire County deserve this project and we are committed to making it as successful as our other hospitality businesses." Website
There is no shortage of great places to go and things to do "After Dark" in the Berkshires. Below is a very small sampling of local nightlife and their Website Links. For a complete Berkshire Calendar Of Events, please Click Here.
Bounti-Fare Restaurant - 200 Howland Avenue, Adams, MA (413) 743-0193. Website
Bogie's Steak & Ale - 935 South Main Street, Great Barrington, MA (413) 528-5959. Website
Fiori Restaurant - 47 Railroad Street, Great Barrington, MA (413) 528-0351. Website
Gypsy Joynt Cafe - 293 Main Street, Great Barrington, MA (413) 644-8811. Website
Milltown Tavern - 16 Depot Street, Dalton, MA (413) 684-0900. Website
Olde Heritage Tavern - 12 Housatonic Street, Lenox, MA (413) 637-0884. Website
PortSmitt's Lakeway Restaurant - 370 Pecks Road, Pittsfield, MA (413) 236-5727. Website
The Brick House - 425 Park Street, Housatonic, MA (413) 274-0020. Website
The Red Lion Inn - 30 Main Street, Stockbridge, MA (413) 298-5545. Website
If you have something you would like us to share in an upcoming Newsletter, please Click Here.