The Berkshires offer an array of fine restaurants, taverns, sandwich shops and pizzerias, with one certain to appeal to your palate, as well as your pocket book. From casual dining to gourmet excellence as well as great pizza, sandwiches and your favorite ice-cold beverage. The Berkshires are known the world over for pleasing even the most demanding of clientele.
Within the Berkshire Dining website, we have listed Berkshire County's great restaurants and eateries and hope that your dining experience is one to remember. Have a dining question or need help making a reservation? Call us Toll Free at 1-800-772-7926 for assistance.
Who isn't a fan of a great casual meal, easy in, easy out and light on the pocketbook. But there are times that we want more. We want ambiance, perhaps a fine wine, exemplary service, a meal that will be talked about long after the evening has ended.
We are often asked where we would go for a "Special Night Out" in the Berkshires and I must say there are many great restaurants to choose from. We have listed a few of our "Top Picks" below, but please note, they are listed in order alphabetically, and not by preference. Also, some do have a dress requirement, so please call ahead and we would strongly recommend reservations as far in advance as possible.
---
John Andrews
Cuisine: Continental
Click For Menu
224 Hillsdale Road
South Egremont, MA 01230
413-528-3469
Website

Olde Inn On The Green
Cuisine: American
Click For Menu
Route 57
New Marlborough, MA 01230
413-229-7924
Website
---
Red Lion Inn
Cuisine: Continental
Click For Menu
30 Main Street
Stockbridge, MA 01262
413-298-5545
Website

Table Six Restaurant
Cuisine: American
Click For Menu
2 Kemble Street
Lenox, MA 01240
413-637-4113
Website

The Gateways Inn
Cuisine: Continental
Click For Menu
51 Walker Street
Lenox, MA 01240
413-637-2532
Website
---
The Mill On The Floss
Cuisine: French
Click For Menu
342 Route 7
New Ashford, MA 01237
413-458-9123
Website
SAs summer quickly approaches, area merchants are preparing for another busy season in the beautiful Berkshires. Hotels are receiving advance reservations and tickets for local Performing Arts and Attractions, such as Tanglewood, Shakespeare & Company, Williamstown Theatre Festival and Jacobs Pillow Dance Festival, are now on sale. Please take a moment and visit the website of an area attraction, by clicking their Logo below.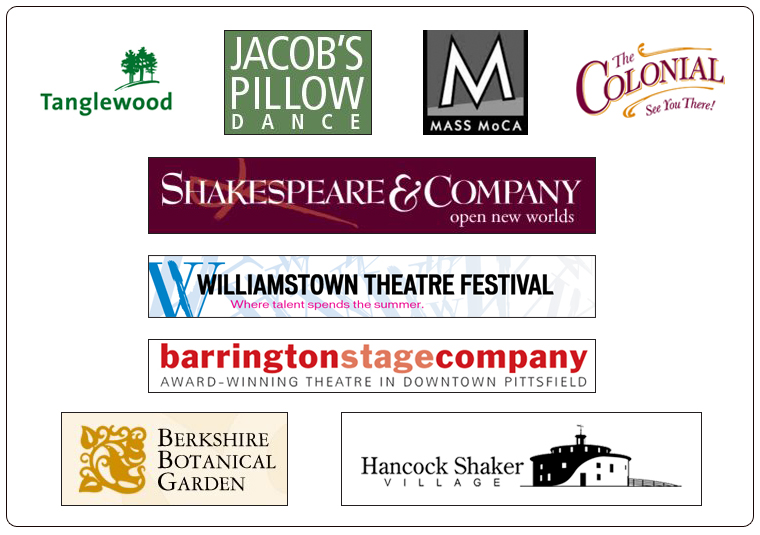 Tanglewood:
The 2016 Tanglewood Season Tickets are on sale now! The 2016 Tanglewood season offers music lovers a spectacular variety of musical guests and programs that spotlight Tanglewood's rich tradition of presenting summertime concerts at their best since 1937. Widely known as one of the world's most beloved music festivals and the famed summer home of the Boston Symphony Orchestra, Tanglewood is situated in the beautiful Berkshire Hills of western Massachusetts.

The 2016 Tanglewood season also honors the festival's tradition of presenting the BSO and many of the top artists of the music world in concerts throughout the season. Website
---
Barrington Stage Company:
Barrington Stage Company kicks of the 2016 season with "Presto Change-O" running May 18, 2016 - June 11, 2016.

WORLD PREMIERE
Book and Lyrics by Eric Price; Music by Joel Waggoner
Choreography by Chris Bailey
Directed by Marc Bruni

This exciting new musical tells the story of three generations of magicians who find themselves under one roof for the first time in years. When the grandfather starts causing real magic to happen, they must confront their past mistakes and re-examine what it means to be a family. Website
---
Shakespeare & Company:
Shakespeare & Company is a professional live theatre company in the heart of the Berkshires, presenting a vibrant summer performance season featuring the works of Shakespeare in repertory with classic and contemporary plays. The Company offers one of the most extensive actor training programs by a regional theatre in the country, and is also home to an award-winning and nationally recognized theatre-in-education program. Website
2016 Shakespeare & Company Productions
The Taming
Ugly Lies the Bone
The Merchant of Venice
Twelfth Night
The Emperor of the Moon
Or,
Cry "Havoc!"
The Two Gentlemen of Verona
Sotto Voce
It's A Wonderful Life: A Live Radio Play
---
Jacob's Pillow Dance Festival:
Tickets for Festival 2016 go on sale Friday, April 1. Welcome to Festival 2016! A quirky, charming company from Germany, the explosive footwork of South American gauchos, inspiring ballet companies from across the U.S., astounding flex dancers from the streets of Brooklyn, and twelve high-flying men from Algeria. This summer, the world of dance is at Jacob's Pillow.

Plus more live music than ever before, including star string quartets Brooklyn Rider and FLUX Quartet, the vocalists and musicians of Juan Siddi Flamenco, Nicholas Van Young's visionary electronic tap instruments, and outstanding drummers from Argentina, Korea, and Burkina Faso.

Ticketed performances are only part of the excitement. Each summer, the Festival features more than 200 free performances, talks, exhibits, tours, classes, and more. Visitors can explore the National Historic Landmark grounds, visit The School at Jacob's Pillow, picnic and dine at our on-site restaurants, and more.

We can't wait to see you this summer. Explore the Festival. Website
---
Williamstown Theatre Festival:
The 2016 WTF Season will begin with THE ROSE TATTOO, June 28th through July 17th. Obie Award winner Trip Cullman directs Academy Award winner Marisa Tomei in this new production of Pulitzer Prize winner Tennessee Williams' intoxicating comedy, which won the Tony Award for Best Play in 1951. After retreating from the world in grief, widow Serafina (Tomei) revives and rejoins the world when the hot-blooded trucker Alvaro arrives at her doorstep. Passion, gossip, music and mystery fill the air in this steamy Gulf Coast town, where possibility and promise ignite. Website
---
Hancock Shaker Village:
Hancock Shaker Village kicks off its 2016 season with the annual Baby Animals on the Shaker Farm, April 16th through May 8th. This spring celebration is one of the most exciting times of the year at the Village. It's a 3-week barnyard birthday party for the new lambs, piglets, calves and chicks that will be filling the famous Round Stone Barn! Come celebrate and give a warm welcome to these new fuzzy friends. Stroll through our heirloom gardens, play in our hands-on Discovery Room, and explore our historic buildings. Website
Please Visit Our Sponsors
MASS MoCA:
FreshGrass Bluegrass Festival 2016 - FreshGround is a tent-camping field within easy walking distance (.7 miles; 12 minutes) of the festival, convenient to downtown merchants, bars, and restaurants. A shuttle bus runs continuously to the festival. Reserve tent camping. Camp Aggie for RV camping is located 4 miles down the road from the festival. Shuttle buses run to the festival every 20-30 minutes. Reserve RV camping.

Music starts early in the museum courtyards, moves to our spacious (and grassy!) urban concert meadow, and then continues until past your bedtime with wild and woolly late-night barn dances in the Hunter Center on Friday and Saturday nights. The lineup is jam-packed with guitar gods and banjo gurus, traditionalists and trailblazers—artists you already know and love interspersed with FreshGrass discoveries. Taken together, it's an expansive group of performers who both draw on the past and look to the future. We like to think of it as "great music uprooted."

The FreshGrass Award celebrates new talent, with cast prizes to the contest winners. Finalists in the band, duo, banjo, and fiddle categories perform for a panel of industry professionals on Saturday and Sunday of the festival, with winners announced on Sunday afternoon. Open to all festival-goers, the contest showcases the future of bluegrass and roots music when the bands play original and traditional tunes. With prizes totaling $25,000, grand prize winners receive a performance spot at next year's festival, recording sessions at Compass Records, and hand-crafted instruments from festival sponsors. Website
---
Berkshire Botanical Garden:
On May 6th and 7th the Berkshire Botanical Garden will be conducting their 39th Annual Plant Sale. What better way to say hello to spring than with PLANTS AND ANSWERS, our 39th annual Plant Sale. We've hand picked and grown some of our favorite plant selections and new varieties this year – you won't want to miss it! If you would like to volunteer for this event or are interested in becoming a vendor, contact info@berkshirebotanical.org or call (413) 298-3926 ext. 10. Held on the grounds of the Berkshire Botanical Garden, at the junction of Routes 183 and 102 in Stockbridge, MA. Admission and parking are free! Website
---
The Colonial Theatre:
Little Shop Of Horrors - July 6th - July 23rd, 2016 - The Drama Critics Circle Award and Drama Desk Award-winning rock, horror, musical comedy, Little Shop of Horrors, is open for business! Directed by, Ethan Heard (BTG: Bells Are Ringing, A Little Night Music, Cat and The Canary), this celebrated, farcical production, has music by Academy Award, Golden Globe Award and Tony Award-winners Alan Menken and lyrics by Howard Ashman (The Little Mermaid, Beauty and the Beast, Aladdin).

Seymour Krelborn, a timid, poor floral assistant, lives downtown on Skid Row. Constantly berated by his boss, Mr. Mushnik, and longing to be noticed by his beautifully flawed co-worker, Audrey, Seymour serendipitously discovers a mysterious plant in town. Aptly naming it the Audrey II, Seymour takes the plant back to his run-down flower shop. Suddenly Seymour's life is filled with recognition and riches, all thanks to the Audrey II. Unfortunately, the plant has an unconventional thirst for something other than water. Seymour is faced with the tough decision of giving into the lewd Audrey II's demands and continuing down the path to success, or returning back to his simple life. Hit-filled and hair-raising, ludicrous laughs unfold in this unconventional, killer comedy musical.


Ethan Heard says, "Having directed two grandly romantic shows the past two seasons (Bells Are Ringing, A Little Night Music), this year I'm thrilled to get down and dirty with the desperate denizens of Skid Row. Drawing inspiration from the show's roots in Camp and B Horror flicks, our production pumps fresh blood into the carnivorous plant Audrey II, bringing her to life in unexpectedly fabulous ways. Website
---
The Mahaiwe Performing Arts Center:
On Saturday, June 26th at 7PM, The Mahaiwe proudly presents:
Joshua Redman Quartet with Aaron Goldberg, Reuben Rogers & Greg Hutchinson,
Joshua Redman is one of the most acclaimed and charismatic jazz artists to have emerged in the decade of the 1990s. Born in Berkeley, California, he is the son of legendary saxophonist Dewey Redman and dancer Renee Shedroff. He was exposed at an early age to a variety of music (jazz, classical, rock, soul, Indian, Indonesian, Middle-Eastern, African) and instruments (recorder, piano, guitar, gatham, gamelan), and began playing clarinet at age nine before switching to what became his primary instrument, the tenor saxophone, one year later. The early influences of John Coltrane, Ornette Coleman, Cannonball Adderley and his father, Dewey Redman, as well as The Beatles, Aretha Franklin, the Temptations, Earth, Wind and Fire, Prince, The Police and Led Zeppelin drew Joshua more deeply into music.

"When the conversation ensues about who is carrying on the great tradition of jazz musicianship today…if Joshua Redman's name does not come up, the conversation is not worth having." -- JamBase

"Mr. Redman is a supremely affable and flowing improviser, at times a borderline brilliant one, working in a glow of clarity." -- The New York Times. Website
---
North Adams SteepleCats:
2016 Season Home Opener - The SteepleCats organization, a collegiate summer baseball team that brings the best college baseball players from across the country to play summer baseball at Joe Wolfe Field in North Adams. The team is part of the New England Collegiate Baseball League, a premier summer league that is known for its superb competition. This years Home Opener will be June 9th at 6:30PM against the New Bedford Bay Sox. Website
---
Pittsfield Suns:
The Pittsfield Suns, a member of the Futures Collegiate Baseball League, will begin their 2016 campaign when they host the Bristol Blus on June 2nd, 2016 at 7PM. Gates will open an hour prior to the first pitch, with fireworks after the game. The Suns will play 28 home games at Wahconah Park in 2016. The Suns offer affordable family entertainment with a distinctive flair remaining the primary focus of each Suns event, delighting fans of Pittsfield as well as visitors of the Berkshires. Website
---
Berkshire Museum:
Berkshire Museum presents ArtZoo: The family-friendly exhibition ArtZoo is on view at the Berkshire Museum now through May 1, 2016.

Set out on an exciting excursion through ArtZoo and discover a magnificent menagerie of creatures portrayed in photography, painting, sculpture, ceramic, video, and more. This wild kingdom of animals from every corner of the world is grouped by species, as in a real zoo, and displayed with scientific specimens and engaging interactive stations.

Artists have been portraying animals and birds since the days of the cave paintings, and ArtZoo is a panoply of such animals in art, showcasing loaned works of art created by contemporary artists and photographers as well as pieces gathered from the Museum's permanent collections. A stunning life-like rhinoceros head, cast in bronze by award-winning French artist Quentin Garel, is one of the centerpieces of the African savannah area of the gallery. An expressive turtle and a realistic ostrich, also bronze sculptures by Garel, have their own places in the galleries, both displayed with scientific specimens: a pair of real sea turtles and a life-size ostrich skeleton and enormous 10-inch eggs offer a sense of scale.

Vivid images of gorillas, giraffes, and lions by award-winning wildlife photographers Sally Eagle and Dan Mead offer an exciting glimpse of life in the wild, while a compelling video by Sally Eagle of a jaguar attacking a caiman is an extraordinary real-time look at the raw power of nature. The video, titled Ambush in the Pantanal, was selected as the winning video for the 2014 Windland Smith Rice International Awards by Nature's Best Photography. It is currently on display at the Smithsonian National Museum of Natural History in Washington D.C. Website
---
Norman Rockwell Museum:
Build a Better Baby Carriage: A 100th Anniversary Celebration
May 14, 2016 through October 30, 2014

This celebration of the centenary of Norman Rockwell Museum's first Saturday Evening Post cover, Boy with Baby Carriage, published on May 16, 1916, will provide inspiration for exciting new works in diverse media by contemporary artists. Three-dimensional works based upon Rockwell's theme will enliven the Museum grounds this summer and fall.

Juried Exhibition Overview
Norman Rockwell Museum invites your participation in a most unusual juried exhibition of contemporary sculpture and installation art. Artists working in all media may submit proposals for Build a Better Baby Carriage, a juried exhibition held in conjunction with the centenary of Norman Rockwell's first Saturday Evening Post cover, Boy with Baby Carriage, published on May 16, 1916. This outdoor installation will feature unique original works inspired by baby carriages and Norman Rockwell's art. Works will be displayed on the museum's beautiful 36-acre site overlooking the Housatonic River. Website
---
Please Visit Our Sponsors
There is no shortage of great places to go and things to do "After Dark" in the Berkshires. Below is a very small sampling of local nightlife and their Website Links. For a complete Berkshire Calendar Of Events, please Click Here.
Bounti-Fare Restaurant - 200 Howland Avenue, Adams, MA 413-743-0193. Website
Bogie's Steak & Ale - 935 South Main Street, Great Barrington, MA 413-528-5959. Website
Castle Street Cafe - 10 Castle Street, Great Barrington, MA 413-528-5244. Website
New Boston Inn - 101 North Main Street, Sandisfield, MA 413-258-4477. Website
Olde Heritage Tavern - 12 Housatonic Street, Lenox, MA 413-637-0884. Website
PortSmitt's Lakeway Restaurant - 370 Pecks Road, Pittsfield, MA 413-236-5727. Website
The Brick House - 425 Park Street, Housatonic, MA 413-274-0020. Website
The Gateways Inn - 51 Walker Street, Lenox, MA 413-637-2532. Website
The Purple Pub - 65 Spring Street, Williamstown, MA 413-458-0095. Website
The Red Lion Inn - 30 Main Street, Stockbridge, MA 413-298-5545. Website
Underground Pub - 1 West Street, Pittsfield, MA 413-553-2214. Website
If you have something you would like us to share in an upcoming Newsletter, please Click Here.