The Berkshires offer an array of fine restaurants, taverns, sandwich shops and pizzerias, with one certain to appeal to your palate, as well as your pocket book. From casual dining to gourmet excellence as well as great pizza, sandwiches and your favorite ice-cold beverage. The Berkshires are known the world over for pleasing even the most demanding of clientele.
Within the Berkshire Dining website, we have listed Berkshire County's great restaurants and eateries and hope that your dining experience is one to remember. Have a dining question or need help making a reservation? Call us Toll Free at 1-800-772-7926 for assistance.
Backwater Bar & Grille
Haflinger Haus
Rainbow Restaurant
Cuisine: American
Cuisine: European American
Cuisine: American/Italian
Click For Review
Click For Review
Click For Review
42 Queechy Lake Drive
Canaan, NY 12029
(518) 781-0199
17 Commercial Street
Adams, MA 01220
(413) 743-2221
109 First Street
Pittsfield, MA 01201
(413) 443-0002
Website
Website
Website
Olde Heritage Tavern
Shiro Japanese Rest.
Zucchini's Restaurant
Cuisine: American/Italian
Cuisine: Japanese, Hibachi & Sushi
Cuisine: American/Italian/Pizza
Click For Review
Click For Review
Click For Review
12 Housatonic street
Lenox, MA 01240
(413) 637-0884
105 Stockbridge Road
Great Barrington, MA 01230
(413) 528-1898
1331 North street
Pittsfield, MA 01201
(413) 442-2777
Website
Website
Website
As summer quickly approaches, area merchants are preparing for another busy season in the beautiful Berkshires. Hotels are receiving advance reservations and tickets for local Performing Arts and Attractions, such as Tanglewood, Shakespeare & Company, Williamstown Theatre Festival and Jacobs Pillow Dance Festival, are now on sale. Please take a moment and visit the website of an area attraction, by clicking their Logo below.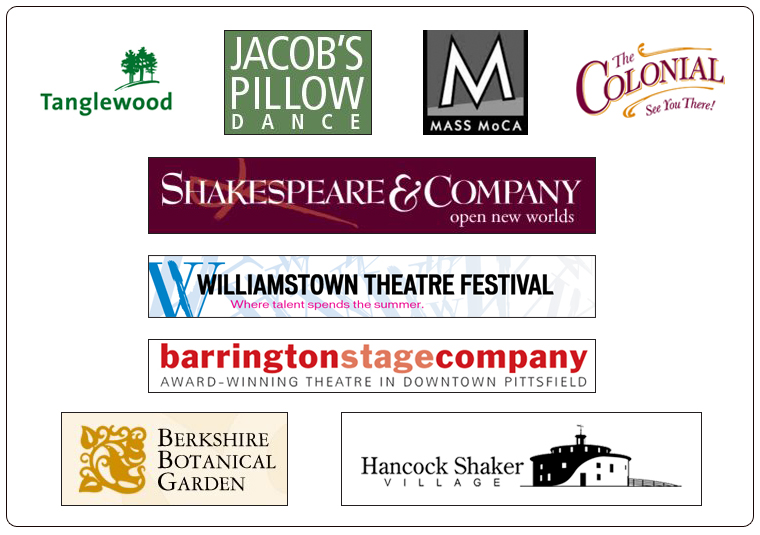 Tanglewood:
The 2014 Tanglewood Season Tickets are on sale now! The 2014 Tanglewood season offers music lovers a spectacular variety of musical guests and programs that spotlight Tanglewood's rich tradition of presenting summertime concerts at their best since 1937. Widely known as one of the world's most beloved music festivals and the famed summer home of the Boston Symphony Orchestra, Tanglewood is situated in the beautiful Berkshire Hills of western Massachusetts.

James Taylor, one of Tanglewood's most beloved guests, takes back the Shed stage along with his All-Star Band in two concerts, Thursday, July 3, and Friday, July 4. A festive Independence Day fireworks display follows the July 4 concert. All proceeds for the July 4 concert to benefit Tanglewood. Website
Barrington Stage Company:
The Barrington Stage Company 2014 season performance schedule has something for everyone, with over 265 performances, including Musicals, Plays, Cabarets, Concerts, Readings and Free Events.

Enjoy favorites such as Cole Porter's Kiss Me, Kate, June 11 - July 12, Sparkling with 18 classic Cole Porter songs, this Tony-winner is musical comedy paradise, Breaking The Code, July 17 - August 2, The powerful true story of Alan Turing, the famed mathematician and computer science pioneer who broke Hitler's Enigma code and Dancing Lessons, August 7 - August 24, A romantic comedy about a young man with Asperger's and his relationship with an injured Broadway dancer ...and many other great performances. Please visit the BSC website for this seasons complete calendar. Website
Shakespeare & Company:
Artistic Director Tony Simotes kicks off a celebratory season in honor of the 450th anniversary of Shakespeare's birth with Shakespeare's Will, directed by Daniela Varon and featuring Kristin Wold. This provocative one-woman play by Canadian Playwright Vern Thiessen imagines the bold and unapologetic journey of Shakespeare's enigmatic wife, Anne Hathaway, and the couple's unconventional courtship and marriage. Performances run in the Elayne P. Bernstein Theatre May 24 – August 24.

450 years after his birth, Shakespeare's works continue to survive and his popularity continues to accelerate with uncountable works of scholarship, criticism, and literature that he has inspired. No other artist has ever had so much written about him, but the facts we have about William Shakespeare of Stratford are surprisingly few and the facts we have about his wife Anne Hathaway, are even fewer. Married to the greatest wordsmith of all time, Hathaway may well have been illiterate; no words of hers survive. However, we do have Shakespeare's last will and testament, amended in March 1616, about a month before his death. Website
Jacob's Pillow Dance Festival:
Tickets for Festival 2014 are now on sale. Jacob's Pillow Dance Festival 2014 (June 14 through August 24) features vibrant, intriguing, and inspirational dance performances from Australia, Brazil, China, Italy, and across the U.S. Enjoy an entire summer of dance or let Festival 2014 serve as the perfect getaway or family vacation. Visit the Jacobs Pillow Dance Festival website for the 2014 schedule, photos, video, and details about the performances. A full schedule of more than 200 free shows, talks, and events are planned. Website
Williamstown Theatre Festival:
The 2014 WTF Season will begin with JUNE MOON, July 2nd through July 13th. Earnest and gullible young lyricist Fred Stevens boards a train in Schenectady bound for the Big Apple, determined to make a name for himself in the thriving Tin Pan Alley scene. However, the life he's imagined is rife with seductive distractions - namely dames - that threaten to derail his dream of penning the next big ditty. Both bitterly funny and deliciously literate, legendary humorists Ring Lardner and George S. Kaufman celebrate and skewer the perishable pop of yesteryear. Director Jessica Stone, whose WTF productions of A FUNNY THING HAPPENED ON THE WAY TO THE FORUM and LAST OF THE RED HOT LOVERS left audiences convulsed with laughter, brings her special brand of glee back to the Festival stage. Website
Hancock Shaker Village:
The Shakers are one of the most intriguing religious movements in American history, and considered among the most successful utopian societies ever to have flourished in this country. A religious order whose members believe in pacifism, celibacy, and communal living, Shaker religious expression took the form of singing and ecstatic dance, which is why they were called the "Shaking Quakers," or "Shakers." There are currently no Shakers living at Hancock, although members continue to live at other Shaker communities.

The Hancock community, the third of nineteen major Shaker villages established in New England, New York, Kentucky, Ohio and Indiana, grew under the leadership of Joseph Meacham and Lucy Wright, with land donated by converted farmers. At the peak of its success in the 1840s, the Hancock community had more than 3,000 acres and 300 members. The community gradually declined, in part due to the urban migration that followed the Industrial Revolution. By the early 1900s, only 50 members remained, most of them children. Eventually, excess land was sold and many buildings were destroyed. Concerned citizens stepped in to preserve the Village in the 1960s.

Today, the 750-acre Hancock Shaker Village operates as a living-history museum open to the public with 20 authentic Shaker buildings, costumed interpreters, rich collections of Shaker furniture and artifacts in rotating exhibits, a full schedule of activities and workshops, a mile-long hiking trail and picnic areas, a Village Store and Village Cafe, and a working farm with extensive gardens and heritage-breed livestock. Website
Please Visit Our Sponsors
MASS MoCA:
FreshGrass Bluegrass Festival 2014 - FreshGrass is a wonderland of traditional and cutting-edge bluegrass, tucked appropriately into a 19th-century factory turned 21st-century museum in the Berkshire mountains of northwestern Massachusetts. An opportunity for enthusiasts to both appreciate and participate, FreshGrass is family-friendly and brimming with the brightest talent not just on our four stages, but also in our galleries, brick-lined courtyards, and grassy fields.

Make tracks to FreshGrass on September 19-21, 2014, in North Adams, Massachusetts. Here is the first wave of bands coming to festival stages! Emmylou Harris, The Carolina Chocolate Drops with special guests, Railroad Earth, Béla Fleck & Abigail Washburn, Sam Bush, The Infamous Stringdusters, David Grisman Sextet, The Gibson Brothers, Alison Brown, Valerie June, Aoife O'Donovan, Rodney Crowell, Sam Amidon, Liam Ó Maonlaí, Michael Cleveland, Claire Lynch, Darol Anger, Martha Redbone Roots Project, and Cricket Tell the Weather. Website
Berkshire Botanical Garden:
The Berkshire Botanical Garden is a not-for-profit, membership-supported educational organization encompassing 15 acres of cultivated land at the intersection of Routes 102 and 183 in Stockbridge, Massachusetts.

Called "a glistening community gem" by Virginia Small, author of the book Great Gardens of the Berkshires, the Garden's mission is to fulfill the community's need for information, education and inspiration concerning the art and science of gardening and the preservation of our environment. Our public display gardens are open May to mid-October. Both functional and ornamental, they are among the oldest in the US and have been expanded over the years in breadth and variety through a series of bequests and major gifts. Our collections emphasize plants that are indigenous to or thrive in the Berkshires.

Classes, workshops, lectures and special events are offered year-round. Since its inception, the Garden also has offered a broad variety of educational programs to school children from the surrounding area. Major annual events include the Plant Sale, the Flower Show, the Fete des Fleurs Garden Party, the Harvest Festival and the Holiday Fair. The Harvest Festival was first held in 1934 as the Garden's first fundraising event and has since become the Berkshires' best-known community gathering. Website
The Colonial Theatre:
Saturday, July 26, 2014 8PM - Peter Schickele - 50 Years of P.D.Q. Bach: A Triumph of Incompetence

"As a musical humorist, Mr. Schickele is without peer and irreplaceable." The New York Times. It's been 50 years since Professor Peter Schickele released P.D.Q. Bach on an unsuspecting musical public. And it's been 80 years since the professor's mother released the professor on an society ill-prepared for such singular genius. And now, because everyone loves a birthday, Professor Schickele has reached back across the decades to explore the damp vaults and dusty attics of Leipzig to once again celebrate the twenty-first child (out of twenty) of the great J.S. Bach. This special, once in a half-century, musical extravaganza will feature the crème de la crème of history's most justifiably neglected composer.

Excerpts include ...Twelve Quite Heavenly Songs: Musical upsettings of the signs of the zodiac (for chamber ensemble), Excerpts from The Notebook for Betty-Sue Bach (for solo piano), Songs from Shakespeare: The Bard's most famous speeches set to 1950's rock 'n' roll (for piano & chamber ensemble). Website
The Mahaiwe Performing Arts Center:
On Saturday, June 21st at 8PM, The Mahaiwe proudly presents Ethel, perhaps, the first 21st-century realization of the classical string quartet - a mixed bag of players from classical, rock and downtown new-music circles. The powerhouse ensemble takes an unconventional approach to performance.

"Ethel ... created a world in which classical music had never grown distant, a world in which it was as fresh and direct as crowds dancing in the street." - Wall Street Journal Since its founding in 1998, the string quartet ETHEL has been a musical pioneer using amplification and improvisation in its concerts of original music and works by contemporary composers. The New York City-based group is comprised of Ralph Farris (viola), Dorothy Lawson (cello), Kip Jones (violin), and Tema Watstein (violin). Website
North Adams SteepleCats:
Season Home Opener - The SteepleCats organization, a collegiate summer baseball team that brings the best college baseball players from across the country to play summer baseball at Joe Wolfe Field in North Adams. The team is part of the New England Collegiate Baseball League, a premier summer league that is known for its superb competition. This years Home Opener will be June 8th at 4:30PM against the Valley Blue Sox. Website
Pittsfield Suns:
The Pittsfield Suns, a member of the Futures Collegiate Baseball League, will begin their 2014 campaign when they host the Torrington Titans on June 6th, 2014 at 7PM for their Season Home Opener. Gates will open an hour prior to first pitch, with fireworks after the game. The Suns are shining bright for our third season at Wahconah Park.

The first 2,000 home opener fans will receive a 2014 magnet schedule, presented by Pittsfield Cooperative Bank. After the game, enjoy our first of SIX FIREWORKS night! This year the Suns will play 28 home games at Wahconah Park. Website
Berkshire Museum:
Berkshire Museum presents Butterflies: On view at the Berkshire Museum from May 31 through September 1, 2014. Butterflies explores one of Earth's most unique living creatures along with the fascination they inspire in humans across the globe. Experience the live Butterfly Pavilion, filled with vibrant native and exotic species of butterflies, discover the fascinating and complex life cycle of butterflies including their remarkable metamorphosis, and learn what we can do to protect their place in the natural environment. The inter-disciplinary exhibition will include works by contemporary artists, as well as historic and cultural artifacts from around the world. Website
Norman Rockwell Museum:
Highlights from Norman Rockwell: Behind the Camera. Now through Saturday, May 31, 2014. Delightful excerpts from the Museum's landmark exhibition first shown in Stockbridge in 2009, are now on view after touring the nation. Shedding new light on Norman Rockwell's art and artistry—Norman Rockwell: Behind the Camera is the first exhibition to explore Rockwell's richly detailed study photographs, created by the artist as references for his iconic paintings. Originally organized with author and guest curator Ron Schick, whose companion book of the same name, the exhibition (and publication) reveals a rarely seen yet fundamental aspect of Rockwell's creative process, and unveils significant new Rockwell imagery in an unexpected medium.

"Norman Rockwell was a natural storyteller with an unerring eye for detail," says Stephanie Haboush Plunkett, Deputy Director and Chief Curator of Norman Rockwell Museum. "This ground-breaking exhibition revealed how that narrative instinct found its first expression in the artist's meticulously composed photographs."
Highlights from Norman Rockwell: Behind the Camera brings together prints of Rockwell's study photographs and original paintings and drawings linked to the photographs on display. The result is a fascinating frame-by-frame view of the development of some of Rockwell's most indelible images. At the same time, the photographs themselves—painstakingly staged by Rockwell and involving an array of models, costumes, props, and settings—are fully realized works of art in their own right. Website
Please Visit Our Sponsors

Restaurant Reopens
Rainbow Restaurant, 109 First Street - Pittsfield, MA - (413) 443-0002 - It's wonderful to see a Downtown Pittsfield dining legacy reopen after being closed for over a year. The Rainbow opened its doors once again, and has quickly become a dining favorite with Berkshire residents and visitors alike. The Rainbow underwent a major renovation and one of the biggest returns, is the wood-fired pizza, that the Rainbow was so famous for in the past. There's a Sunday Brunch as well as Online Ordering, simplifying take-out even more. Enjoy all your favorites including pizza, salads, pasta, steak, chicken, seafood and daily specials.
They feature a wide selection of Craft Beers on Tap, including a few locals, which is always nice to see, along with some of the better liquors that are often hard to find at other area restaurants. They have Free on-site parking, with additional parking available behind the building next door, with stairs leading to their property. FYI, if you're up for a short, easy walk, the Rainbow Restaurant is a short walk from Barrington Stage Company and a 10-15 minute walk from the Crowne Plaza Hotel.
The Rainbow Restaurant is open daily: Sunday through Thursday 11:30AM - 10:00PM, Friday and Saturday 11:30AM-11:00PM. Website
New Bagel Shop In Lee
Knead A Bagel, 62 Main Street - Lee, MA - (413) 243-0547 - Micah Stone and his wife Carrie have opened "Knead A Bagel" in downtown Lee. Their new store occupies the old Verizon Family Wireless location on Main Street, where they turn out fresh bagels daily.
Chef/owners Micah and Carrie Stone have been honing their craft as a culinary team at home, for 7 years, and decided it was time to take their favorite creations to Lee's busy Main Street. They focus on fast service for people on the move that still want quality and they have seating for 20 people, for those who care to dine in. They are dedicated to the individual needs of their customers each and every day. They open at 6AM and offer low carb and gluten free as well. Website
New Chef
Mezze Bistro + Bar, 777 Cold Spring Road - Williamstown, MA - (413) 458-0123 - Chef Nicholas Moulton returns to Mezze Bistro + Bar, this time leading the kitchen and designing and executing the seasonal menu as head chef. An alumnus of Mezze, Moulton worked for four years as sous chef from early 2009 through 2012.

A graduate of the Culinary Institute of America in Hyde Park, N.Y., Nicholas Moulton is committed to using local foods from farms and food producers in the Berkshires and Hudson Valley. He is originally from the Berkshires and has worked in the region for many years.

Immediately prior to his current position at Mezze Bistro + Bar, Moulton was the head chef at Public Eat + Drink in North Adams, growing the restaurant's popularity in the city. He was sous chef at The Orchards Hotel in Williamstown for two years and has apprenticed at renowned restaurants Blantyre (Relais & Chateaux), L'espalier, Wheatleigh and Craigie on Main.

Producing simple food that is bright and full of life, Moulton is dedicated to the nose-to-tail philosophy and is involved in the harvesting and butchering of ingredients for the restaurant's menu. He places an emphasis on plant-based foods and wild ingredients that grow locally and believes in supporting sustainable agriculture.

"It's great to be back at Mezze cooking with local, seasonal ingredients," said Moulton. "It's truly an honor to work with the dedicated farmers, artisans and chefs in this area and to build a menu that reflects the landscape that surrounds us."

As a chef focused on regional cuisine, he holds a strong commitment to the farm-to-table movement while building awareness of Berkshire food culture and an understanding of the region's terroir, part of the growing mission of Mezze Restaurant Group. Website
There is no shortage of great places to go and things to do "After Dark" in the Berkshires. Below is a very small sampling of local nightlife and their Website Links. For a complete Berkshire Calendar Of Events, please Click Here.
Bounti-Fare Restaurant - 200 Howland Avenue, Adams, MA (413) 743-0193. Website
Bogie's Steak & Ale - 935 South Main Street, Great Barrington, MA (413) 528-5959. Website
Castle Street Cafe - 10 Castle Street, Great Barrington, MA (413) 528-5244. Website
Gypsy Joynt Cafe - 293 Main Street, Great Barrington, MA (413) 644-8811. Website
Milltown Tavern - 16 Depot Street, Dalton, MA (413) 684-0900. Website
Olde Heritage Tavern - 12 Housatonic Street, Lenox, MA (413) 637-0884. Website
PortSmitt's Lakeway Restaurant - 370 Pecks Road, Pittsfield, MA (413) 236-5727. Website
The Brick House - 425 Park Street, Housatonic, MA (413) 274-0020. Website
The Red Lion Inn - 30 Main Street, Stockbridge, MA (413) 298-5545. Website
Underground Pub - 1 West Street, Pittsfield, MA (413) 553-2214. Website
If you have something you would like us to share in an upcoming Newsletter, please Click Here.