The Berkshires offer an array of fine restaurants, taverns, sandwich shops and pizzerias, with one certain to appeal to your palate, as well as your pocket book. From casual dining to gourmet excellence as well as great pizza, sandwiches and your favorite ice-cold beverage. The Berkshires are known the world over for pleasing even the most demanding of clientele.
Within the Berkshire Dining website, we have listed Berkshire County's great restaurants and eateries and hope that your dining experience is one to remember. Have a dining question or need help making a reservation? Call us Toll Free at 1-800-772-7926 for assistance.
Who isn't a fan of a great casual meal, easy in, easy out and light on the pocketbook. But there are times that we want more. We want ambiance, perhaps a fine wine, exemplary service, a meal that will be talked about long after the evening has ended.
We are often asked where we would go for a "Special Night Out" in the Berkshires and I must say there are many great restaurants to choose from. We have listed a few of our "Top Picks" below, but please note, they are listed in order alphabetically, and not by preference. Also, some do have a dress requirement, so please call ahead and we would strongly recommend reservations as far in advance as possible.
---
John Andrews
Cuisine: Continental
Click For Menu
224 Hillsdale Road
South Egremont, MA 01230
413-528-3469
Website

Olde Inn On The Green
Cuisine: American
Click For Menu
Route 57
New Marlborough, MA 01230
413-229-7924
Website
---
Red Lion Inn
Cuisine: Continental
Click For Menu
30 Main Street
Stockbridge, MA 01262
413-298-5545
Website

Table Six Restaurant
Cuisine: American
Click For Menu
2 Kemble Street
Lenox, MA 01240
413-637-4113
Website

The Gateways Inn
Cuisine: Continental
Click For Menu
51 Walker Street
Lenox, MA 01240
413-637-2532
Website
---
The Mill On The Floss
Cuisine: French
Click For Menu
342 Route 7
New Ashford, MA 01237
413-458-9123
Website
Summer 2014 is at the halfway point and local Performing Arts and Attractions, such as Tanglewood, Shakespeare & Company, Williamstown Theatre Festival and Jacobs Pillow Dance Festival, are in full swing. Please take a moment and visit the website of an area attraction, by clicking their Logo below.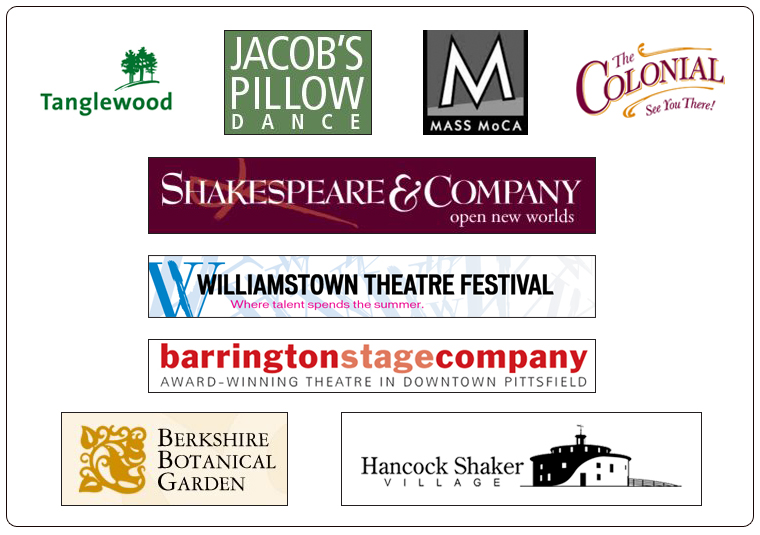 Tanglewood:
Beach Boys - Monday, August 18 - Tanglewood will get into the "Fun, Fun, Fun" spirit of the Beach Boys with dance areas on the lawn outside of the Shed, volleyball nets near the rear of the lawn, beach balls dispersed for play throughout the concert, Beach Boy-style temporary tattoos, and sand and surf décor around the grounds.

The Beach Boys' vocal harmonies are unmistakable and enduring, and their torrent of hits changed the musical landscape profoundly. The Beach Boys continue to create and perform with the same bold imagination and style that marked their explosive debut over 50 years ago. Captained by Mike Love, The Beach Boys play an astoundingly busy schedule of concerts, averaging 150 shows a year. The Beach Boys are led by Mike Love and Bruce Johnson, who along with Jeffrey Foskett, Randell Kirsch, Tim Bonhomme, John Cowsill, and Scott Totten continue the legacy of the iconic American band. Few, if any, acts can match The Beach Boys' concert presence, spirit, and performance. Website
---
Barrington Stage Company:
BARRINGTON STAGE COMPANY presents JOHN CARIANI and PAIGE DAVIS in MARK ST. GERMAIN'S World Premiere Romantic Comedy, DANCING LESSONS Directed by JULIANNE BOYD AUGUST 7-24.
Barrington Stage Company (BSC), the award-winning theatre in Downtown Pittsfield, MA, under the leadership of Artistic Director Julianne Boyd and Managing Director Tristan Wilson, presents the world premiere of Dancing Lessons, thenew romantic comedy by playwright and BSC Associate Artist Mark St. Germain from August 7 – 24. Opening night is August 13 at 7PM.

Directed by Barrington Stage Artistic Director Julianne Boyd, Dancing Lessons stars John Cariani and Paige Davis. John Cariani made his BSC debut as 'Dogberry' in last summer's Much Ado About Nothing. Cariani is also the playwright of the popular play Almost, Maine and recently starred in the play's Off-Broadway revival. Paige Davis (Broadway's Chicago and TV's "Trading Spaces") makes her BSC debut.

Dancing Lessons centers on a young man (Cariani) with high-functioning autism (Asperger's syndrome) seeks the instruction of a Broadway dancer (Davis), now sidelined with injuries. As their relationship unfolds, they're caught off-guard by the surprising discoveries – both hilarious and heartwarming – that they make about each other. Website
---
Shakespeare & Company:
A Midsummer Night's Dream
Now through August 30
Tina Packer Playhouse
by WILLIAM SHAKESPEARE
directed by TONY SIMOTES

Magic and whimsy meet down in the Bayou where A Midsummer Night's Dream comes to life and the Jazz Era in America explodes! Oberon, Titania and the ever-mischievous sprite Puck frolic among the mangroves and Spanish moss in this enchanted and unforgettable treatment of Shakespeare's classic, bawdy comedy.

The Complete Works of William Shakespeare (Abridged)
Now through August 24
Tina Packer Playhouse
by ADAM LONG, DANIEL SINGER, and JESS WINFIELD
directed by JONATHAN CROY

A hilarious medley of mayhem, comedy and lunacy, The Complete Works of William Shakespeare (Abridged) returns (after too long of an absence) with a naughty new cast, a devilishly fresh take, and a feverish pace. With a wink and a nod (and perhaps a pinch of the bottom), this clever parody whirls by — you'll be laughing long after we're done with you!

Henry IV, Parts I & II
LIMITED RUN
August 2–August 31
PREVIEWS AUGUST 2–7
OPENS AUGUST 8
Tina Packer Playhouse
by WILLIAM SHAKESPEARE
directed by JONATHAN EPSTEIN
featuring MALCOLM INGRAM as Falstaff

Power and rebellion collide in a whirlwind adaptation of Henry IV — delivering both parts in one dynamic evening of theatre. A 15th century Eastcheap and a contemporary London set the backdrop for the exploits of a defiant Price Hal and his partner-in-crime, the unruly knight Falstaff, a guilt-ridden King Henry, and the plotting Harry Percy — "The Hotspur." Shakespeare's History Cycle continues to captivate and mesmerize after 450 years.
Website
---
Jacob's Pillow Dance Festival:
Pacific Northwest Ballet
Wednesday August 6 through Saturday August 9 - 8PM
Saturday August 9 and Sunday August 10 - 2PM

Under the direction of Peter Boal, one of America's greatest ballet companies makes a rare East Coast appearance. Their exciting program includes British choreographer David Dawson's exuberant A Million Kisses to My Skin and Nacho Duato's Rassemblement, inspired by and danced to the music of Haitian singer Toto Bissainthe. Five time Tony Award-winning choreographer Susan Stroman also offers her jazzy TAKE FIVE...More or Less, set to music by Dave Brubeck and Paul Desmond.
A Jazz Happening
Sunday, August 17, 5PM

The 22 international students of the Jazz/Musical Theatre Dance program of The School at Jacob's Pillow win hearts in a swinging show of dance and live music. One night only! Directed by Broadway's Chet Walker, A Jazz Happening features original choreography by faculty of The School and live music by an onstage jazz band.

For Walker's involvement with the current Broadway revival of Pippin, he received both the Drama Desk Award and the Outer Critics Circle Award for Outstanding Choreography. This season, he celebrates 15 years as Director of the Jazz/Musical Theatre Dance program at the Pillow. Don't miss this one-night-only show!

Proceeds benefit The School at Jacob's Pillow
Website
---
Williamstown Theatre Festival:
The Old Man and the Old Moon
August 6 - August 17 | Nikos Stage
By PigPen Theatre Co.
Directed by Stuart Carden and PigPen Theatre Co.

The endlessly imaginative PigPen Theatre Co. comes to Williamstown with a luminously lo-fi spectacle that elevates traditional storytelling to high art. Their fantastical, song-filled tale takes us to the end of the world when an old man abandons his duty of filling the moon with liquid light to search for his missing wife. With a rollicking array of ever-changing characters, inventive theatrical effects, and an infectious contemporary folk sound, these seven young actor musicians transform the seemingly ordinary into sheer wonder. Website
---
Hancock Shaker Village:
Join us on Saturday, August 9, 2014, from 5 to 9 pm, for our Gala fundraising dinner and silent auction. Enjoy cocktails in the gardens in view of the fabulous Round Stone Barn, and a delicious meal of locavore food prepared by Chef Michael Roller. Then dance under the stars to Gregory Caputo's Big Band sound — all while helping Hancock Shaker Village! Bid on the many tempting goodies in the silent auction, too! Proceeds from the Gala benefit the Village, especially the special cause-within-a-cause, which is the exterior restoration of our historic buildings.

Young Shakers Tours are BACK! This 90-minute fun-filled guided tour, held daily at 11 am, allows kids and adults alike to experience life as a Shaker child, circa 1830. Dress like a Shaker, tend farm animals in the Round Stone Barn, make something delicious in the Kitchen of the Dwelling — and even go to school (for a few minutes, anyway) just as Shaker children did! All children must be accompanied by an adult. Click on Shaker Adventures to register or call 413.443.0188 x100 for more information. Website
Please Visit Our Sponsors
MASS MoCA:
FreshGrass Bluegrass Festival 2014 - FreshGrass is a wonderland of traditional and cutting-edge bluegrass, tucked appropriately into a 19th-century factory turned 21st-century museum in the Berkshire mountains of northwestern Massachusetts. An opportunity for enthusiasts to both appreciate and participate, FreshGrass is family-friendly and brimming with the brightest talent not just on our four stages, but also in our galleries, brick-lined courtyards, and grassy fields.

Make tracks to FreshGrass on September 19-21, 2014, in North Adams, Massachusetts. Here is the first wave of bands coming to festival stages! Emmylou Harris, The Carolina Chocolate Drops with special guests, Railroad Earth, Béla Fleck & Abigail Washburn, Sam Bush, The Infamous Stringdusters, David Grisman Sextet, The Gibson Brothers, Alison Brown, Valerie June, Aoife O'Donovan, Rodney Crowell, Sam Amidon, Liam Ó Maonlaí, Michael Cleveland, Claire Lynch, Darol Anger, Martha Redbone Roots Project, and Cricket Tell the Weather. Website
---
Berkshire Botanical Garden:
Harvest Festival
October 11 & October 12
For generations the Harvest Festival has been a cherished tradition in the Berkshires. It is one of the largest and longest running events of its kind in the country with up to 10,000 attendees. Proceeds from the event support educational programs at the Garden.

The Festival is a family-friendly celebration of community, showcasing local crafters & artists, non-stop entertainment, artisan food producers and food trucks. It also features a silent auction, giant tag sales of all kinds, a farmers market, educational workshops and zillions of kids activities, including a haunted house. And don't forget to check our new Botanical Garden section with the Garden's own Farm Camp, Hall of Pumpkins and much more. Website
---
The Colonial Theatre:
Irish Rovers: The Farewell Tour
Thursday, August 21 at 8pm

With wit, a wink, and a smile The Irish Rovers return to the US for The Farewell Tour. Enjoy their irrepressible Irish charm and songs that have captivated audiences since 1964! These last few years, the Rovers have sold out concert tours, returned to the radio airwaves, garnered rave reviews for their recent Gracehill Fair, Drunken Sailor, and Home in Ireland albums, and were touted in the press as "internet sensations!" The excitement around the Rovers these days confirms that their music continues to hit a chord with fans of all ages. Website
---
The Mahaiwe Performing Arts Center:
On Saturday, June 21st at 8PM, The Mahaiwe proudly presents Ethel, perhaps, the first 21st-century realization of the classical string quartet - a mixed bag of players from classical, rock and downtown new-music circles. The powerhouse ensemble takes an unconventional approach to performance.

"Ethel ... created a world in which classical music had never grown distant, a world in which it was as fresh and direct as crowds dancing in the street." - Wall Street Journal Since its founding in 1998, the string quartet ETHEL has been a musical pioneer using amplification and improvisation in its concerts of original music and works by contemporary composers. The New York City-based group is comprised of Ralph Farris (viola), Dorothy Lawson (cello), Kip Jones (violin), and Tema Watstein (violin). Website
---
Berkshire Museum:
Berkshire Museum presents Butterflies: On view at the Berkshire Museum from now through October 26, 2014. Butterflies explores one of Earth's most unique living creatures along with the fascination they inspire in humans across the globe. Experience the live Butterfly Pavilion, filled with vibrant native and exotic species of butterflies, discover the fascinating and complex life cycle of butterflies including their remarkable metamorphosis, and learn what we can do to protect their place in the natural environment. The inter-disciplinary exhibition will include works by contemporary artists, as well as historic and cultural artifacts from around the world. Website
---
Norman Rockwell Museum:
The Unknown Hopper: Edward Hopper as Illustrator
Now through October 26, 2014

Many noted American modernists have successfully traversed the worlds of fine art and illustration, embracing innovation while satisfying in unique and personal ways the needs and wants of a broad popular audience. The Unknown Hopper: Edward Hopper as Illustrator presents a unique and comprehensive study of the little-known twenty year illustration career of the realist master. Attitudes toward art and the crosscurrents of contemporary commercial society during the early to mid twentieth century will be explored in this exhibition, which seeks to provide an integrated understanding of Hopper's published and personal art.

The first one-person exhibition of Edward Hopper's paintings was held in 1920 at the Whitney Studio Club, founded five years earlier by Gertrude Vanderbilt Whitney. During the early twentieth century, from about 1906 to 1925, Hopper found little support for his personal work, and earned his living by creating cover and story illustrations for American periodicals. An exceedingly private individual, he left no written reflections on his two decade career as an illustrator, but much of his work has survived in the original, as proofs, and in published form. Despite his belief that an artist's mature development is linked to the work of his formative years, little focus has been placed on the extensive body of images that he created for such wide circulation magazines as Scribner's Magazine, Everybody's, and Country Gentleman, and for specialty journals like Hotel Management, The Morse Dial, and Wells Fargo Messenger. Website
---
Seven Hills Inn:
Berkshire Cabaret Series at Seven Hills Inn
Now through August 26, 2014

This summer, professional Berkshire and New York City cabaret singers and piano stylists perform melodies from the Great American Songbook featuring the works of Gershwin, Porter, Berlin, Kern, Rogers & Hammerstein and Sondheim. Featured performers scheduled to appear include Sonny Daye & Perley Rousseau, Sherri James Buxton, Holly O'Brien, Bill Brown, Jacque Carnahan, Beth Kirkpatrick, Paul & Rochelle Chamlin and Robin Gerson Wong.

The Seven Hills Inn is located at 40 Plunkett Street in Lenox. Entertainment and bar opened now through August 26. There are two shows nightly on Friday, Saturdays and Tuesdays and one show on Sundays, Mondays and Thursdays.

Fridays, Saturdays @ 8:30PM & 10:45PM
Sunday, Monday, Thursdays @ 8:30PM
Tuesdays @ 8:30PM and 10:30PM

Tickets are $15.00 and include one complimentary glass of wine or beer. There is a full bar and snacks available. Bar opens at 7:30PM. For more information, schedules and to purchase tickets visit our Website or call the inn at 413-637-0060.
---
Please Visit Our Sponsors

Inn and Banquet Facility Re-Opens
The Blackburn Inn, 144 Huntington Road - Worthington, MA - 413-238-0144 - The Blackburn Inn and Banquet Facility, Berkshire and Hampshire counties exclusive Banquet House located in Worthington, MA has re-opened. The Inn has been an established Bed & Breakfast for over 25 years. Your Berkshire And Pioneer Valley Indoor And Outdoor Wedding & Event Specialists.

Owners Dede and Dave Shiffer have partnered with local caterer Maureen Brennan of Brennan's Catering and Events, who has been serving the area for over thirty years. Together, their goal is to bring you a memorable experience in a friendly and relaxing atmosphere with excellent cuisine and service, located in the foothills of the Berkshires with Worthington's natural beauty and charm.

The Inn has a private dining room for your function that can accommodate up to 90 guests and a cozy tavern that can seat 35 additional guests comfortably. The Blackburn has a full liquor license and Brennan's Catering can prepare a wide range of menu items for weddings, rehearsal dinners, corporate functions, holiday parties, reunions, weddings, baby showers, birthdays, etc.

The Inn features 5 large guest rooms each with private bath, furnished with antiques and hand crafted quilts. There is also a sitting room with TV, coffee and WiFi internet. A continental breakfast is served each morning.
Website
New Restaurant Opens In Pittsfield
The Roasted Garlic, 483 West Housatonic Street, Rte. 20 - Pittsfield, MA - 413-499-9910 - The Roasted Garlic is a wood-fired pizza, bar and restaurant located on Route 20 in Pittsfield, using only the finest ingredients, and sourcing local whenever possible.
Husband and wife team Mickey and Lynne Soldato owe their success to their simple yet effective philosophy – serve the freshest, highest quality food at reasonable prices combined with great service.

The Roasted Garlic offers excellent food, affordable prices and the same outstanding customer service you've come to expect from the Soldato's other restaurants, Zucchini's and Mario's, but in a more casual atmosphere.

From the homemade Neapolitan pizza, tasty appetizers and burgers to pasta and entrées, The Roasted Garlic strives to offer something for everyone. Come to watch a game on one of our 6 large screen TVs, enjoy drinks at the bar or bring family and friends for a fun night out. We offer wine by the glass and beer on tap. Chef and owner Mickey Soldato, and his wife Lynne, pride themselves on preparing outstanding food at prices the average family can afford.
The Roasted Garlic is open Tuesday through Saturday 11:30AM-10PM and Sunday Noon-9PM, Closed Mondays.

The Roasted Garlic has 2 sister restaurants:
Mario's, is located in New Lebanon, NY
Zucchini's, is located in Pittsfield, MA.
Website
New Restaurant Opens On Route 20 In Pittsfield
Battista's Italian Eatery, 1231 West Housatonic St., Rte. 20 - Pittsfield, MA - 413-464-8501 - Battista's Italian Eatery opened recently on Route 20 in Pittsfield. Battista's offers many gluten-free dishes. In addition, you can choose your type of pasta and sauce starting at $7.99.
Perhaps you want to just share an appetizer, if so, try their Antipasto Platter featuring an assortment of salami, prosciutto, seasonal selection of cheeses, and hearty bread with an onion marmalade. Just want something light? Try the Berkshire Cobb Salad, or Margherita Flat bread. Also, choose from the selection of Burgers and Entrees; including Bruschetta Chicken and Oven-Baked Salmon.
Hours:
Monday: 11:30AM - 9:30PM
Wednesday & Thursday: 11:30AM - 9:30PM
Friday & Saturday: 11:30AM - 11:00PM
Sunday: 1:00PM - 9:00PM
Website
There is no shortage of great places to go and things to do "After Dark" in the Berkshires. Below is a very small sampling of local nightlife and their Website Links. For a complete Berkshire Calendar Of Events, please Click Here.
Bounti-Fare Restaurant - 200 Howland Avenue, Adams, MA 413-743-0193. Website
Bogie's Steak & Ale - 935 South Main Street, Great Barrington, MA 413-528-5959. Website
Castle Street Cafe - 10 Castle Street, Great Barrington, MA 413-528-5244. Website
Gypsy Joynt Cafe - 293 Main Street, Great Barrington, MA 413-644-8811. Website
Milltown Tavern - 16 Depot Street, Dalton, MA 413-684-0900. Website
New Boston Inn - 101 North Main Street, Sandisfield, MA 413-258-4477. Website
Olde Heritage Tavern - 12 Housatonic Street, Lenox, MA 413-637-0884. Website
PortSmitt's Lakeway Restaurant - 370 Pecks Road, Pittsfield, MA 413-236-5727. Website
The Brick House - 425 Park Street, Housatonic, MA 413-274-0020. Website
The Gateways Inn - 51 Walker Street, Lenox, MA 413-637-2532. Website
The Purple Pub - 65 Spring Street, Williamstown, MA 413-458-0095. Website
The Red Lion Inn - 30 Main Street, Stockbridge, MA 413-298-5545. Website
Underground Pub - 1 West Street, Pittsfield, MA 413-553-2214. Website
If you have something you would like us to share in an upcoming Newsletter, please Click Here.